About Us
Prescott Area Shelter Services (PASS) provides temporary, emergency shelter to women and women with children in a 19 bed dormitory setting, and an additional two rooms built to serve mom's with children, including sons over 12 years old.
The shelter includes a community room with two rooms built above it, kitchen, four bathrooms and a conference room equipped with computers.
Shelter Guests may stay up to 90-Days with the opportunity to extend their stay if certain criteria are met. While at PASS, guests receive case management services and referral to valuable community resources. PASS is a Housing First program with over 81% of our guests transitioning into permanent housing!
OUR MISSION
To serve women, families, and veterans by providing temporary housing, resources, individualized case management, and a pathway to permanent housing.
2022 Financial Supporters
Allbright Family Foundation

American Endowment Foundation

APS

Arizona Community Foundation

AZ Diamondbacks FOundation

AZ Eastern Star Foundation

BCBS AZ

BofA Charitable Foundation

Care1st/AZ Complete Health

Cardinals Charities

Clearinghouse CDFI

Del E. Webb Foundation

First Christian Church

First Congregational Church

Foothills Bank

Goad Living Trust

Golden Rule Chapter #1

Guild Mortgage Company

H2O Health

Harry F Dise Foundation

Jack Ingebritson Foundation

Jewish Community Foundation

JW Kieckhefer Foundation

Lamb Chevrolet

Margaret T. Morris Foundation

OneAZ Credit Union

Prescott Community Church

Prescott Evening Lions Foundation

Prescott Noon Lions Foundation, Inc

Prescott Noon Lioness Club

Prescott Sunrise Lions Foundation

Revival Fire Ministries

Ronald L McDaniel Foundation

St Luke's Episcopal Church

St. George Greek Ortho

StarStruck Event Planning-Festival of Trees Event

Sunstate Equipment Foundation

United Way of Yavapai County

Unity Church of Prescott

Valley of the Sun United Way

Walmart

Wells Fargo Foundation

Winston Foundation

Zelenda Foundation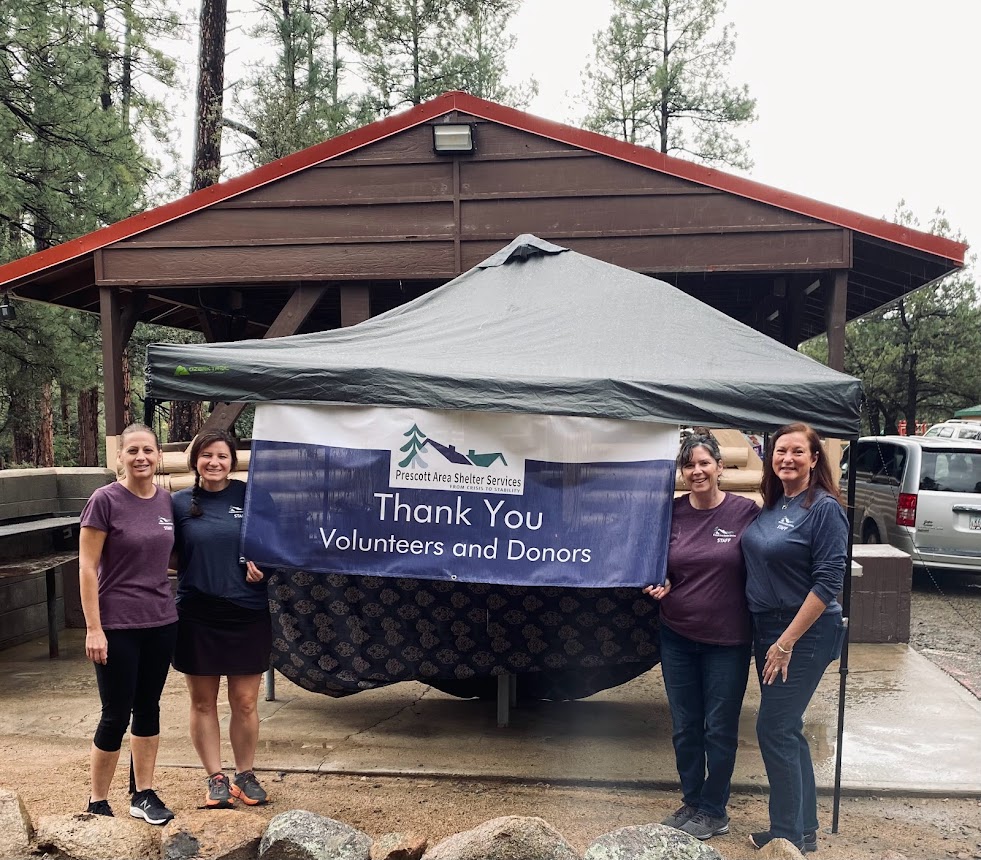 OUR HISTORY
In June of 2007, one of the community conversations centered on the need for an emergency drop-in homeless shelter for women and women with children. In September 2007, ten social service organizations formed a collaboration to make this conversation a reality. The Coalition for Compassion and Justice (CCJ) became the fiscal agent, providing insurance, a non-profit status, and they hired an AmeriCorps Volunteer in Service to America (VISTA) to implement the project. By November 2007, collaboration was formed between the agencies, and the idea of opening a shelter became a reality. The open house was deemed successful; the shelter budget, $15,000, was raised in less than two months.
The Prescott Area Women's Shelter was first opened in December 2007 as a winter shelter and was located in the basement of the Hillside Church of God.  Despite its modest accommodations, the shelter volunteers were able to help guests find places to stay and to apply for jobs and government subsidies. In March of 2008, the last month the winter shelter would be open, it became clear that the community needed a year-round shelter to accommodate the many homeless women and children in Yavapai and surrounding counties.
In April 2008, Youth Count took over as fiscal agent while the Prescott Area Women's Shelter moved into our current facility on 336 North Rush Street. Since July 2008, the shelter Board of Directors has been meeting monthly to continue to improve the shelter. The Prescott Area Women's Shelter is now named Prescott Area Shelter Services (PASS), a registered 501c3 organization.
PASS also managed the DAV Family Shelter from 2013 until the Fall of 2016 when it began transitioning into a much needed Day Resource Center for individuals who are homeless and supportive housing for veterans.  PASS is committed to continually partnering with agencies to work toward ending homelessness for all individuals.
In 2014 we started two new programs. The first was our Homeless Transition Project. The project is designed to provide matching rent and utility deposits for guests participating in structured partner programming, including financial, landlord/tenant and parenting classes. The next program was our Wheels to Work Program. Through this project, each guest receives needed bus, cab, or gas vouchers, assisting them on their path to self-sufficiency.
In 2016 we began Project Restore, which is a revitalization project for our shelter. As a 24 hour a day, 7 days a week shelter, there is a need to maintain and update the shelter so that it is a safe, and sanitary place for the people we serve. Some of the projects include getting new floors throughout, updating our kitchen, putting a window in our dorm so there is natural light, getting a new roof, getting a new HVAC system, replacing our water heater, and replacing our windows so they are more energy-efficient. This project will continue, as needed, to ensure our shelter will be sustainable for years to come. We also began a collaborative project with other community organizations to ensure that when the temperature drops below 30 degrees at night, people in need have a place to go, even when shelters are full. This is Operation Deep Freeze.
In 2019 we started three new programs at PASS. One of them is the Transitional Housing Program.    This is a program for adults and adults with children who are transitioning out of the PASS shelter, or another local non-profit.  This program includes transitional homes,  and is a six-month, up to the two-year-long program. It includes weekly meetings with the PASS staff so that case management is continued and self-sufficiency is reached.
Another program started is our Education to Employability Program. The program's goal is to ensure that all guests develop the personal qualities, skills, knowledge, understanding, and attitudes that will give them a strong foundation for lifelong learning and work.  The final new program of 2019 is a result of our Shelter Expansion Project which added two studio rooms above our already existing community room, allowing us to serve at least eight more guests each night, specifically families with boys over 12 years old.  This expansion resulted in a program to serve mom's with sons over 12 years old in our community.
In 2021 we started our Smile With Confidence Program. This program supports the women and children we serve at our shelter by paying for dental procedures that are not covered by AHCCCS, or to help the guests we serve who are uninsured.
A Children's Program was started in 2021 and the focus of this program is to support, watch, instruct, and engage the children we serve during the evenings when the parents and children are at the shelter. The program assists with homework, interactive games, movie time, projects, play and more.
In 2023 we purchased a 4-plex to continue to expand our Transitional Housing Program. Affordable housing is a great need in our community, and we have made it a goal at PASS to work to meet this need.